Top Cutest Fleece Hoodie Genshin Impact 2021 You Don't Want to Miss Out.
Genshin Impact is now one of the most popular games. The game features character switching, a fantasy open-world environment, and a gacha monetization system that allows players to earn new characters, weapons, and other items. Let your passion for this game shine through by selecting the most fashionable, stylish and cutest jackets from Genshin Impact right now!
Looking for somewhere to buy Genshin Impact Fleece Hoodie, you are in the right store now. Our Anime Jacket Store offers you a wide range of cute Genshin Impact jackets. In the following post, we will recommend some of our cutest as well as best-selling fleece hoodies in our Genshin Impact Jacket Collection.
Genshin Impact Beautiful Barbara 3D Fleece Hoodie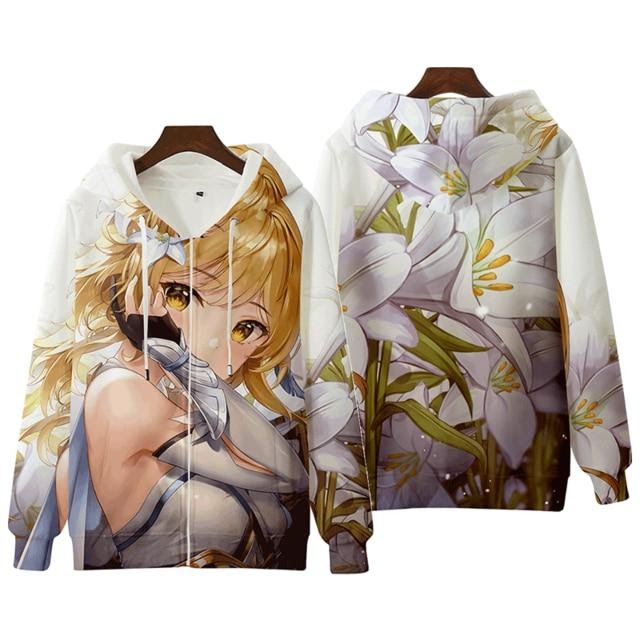 The first jacket we want to mention is the Genshin Impact Beautiful Barbara 3D Fleece Hoodie. This fleece hoodie was designed with inspiration from a pretty girl, named Barbara. Barbara Pegg is a playable Hydro character in Genshin Impact. She is the deaconess of the Church of Favonius and a self-proclaimed "idol" after learning about them from the intrepid adventurer Alice. She is also the daughter of Frederica Gunnhildr and Seamus Pegg, and the younger sister of Jean. If you are interested in her, how about trying on this fleece hoodie? Not only is it stylish but it also is attractive. And about its quality, don't worry. Our jacket's main materials are polyester and cotton, it will bring you comfort when wearing the severe weather.
Genshin Impact Cute Kequing 3D Fleece Hoodie
Do you love Keqing? Keqing is a playable Electro character in Genshin Impact. As the Yuheng of the Liyue Qixing, she is someone who seeks her own answers instead of idly letting chaos run amok in Liyue. She chooses her own path with her own power and ability, instead of letting the gods determine her fate. Are you excited about this character? Choose it for winter to show the world your keenness on such an influenced character like her. Here is our detailed product information:
100% polyester taffeta completely lined

Lightweight, wind/waterproof materials

Extraordinarily sturdy and durable. Resistant to wrinkles, shrinking, abrasion & mildew

Mechanically washable and easy to care

Cool 360 Design

Extreme-definition sublimation printing method covers all of the garment
Genshin Impact 3D Fischl Fleece Hoodie
And how about Fischl, do you fall in love with her at first sight? Fischl is an investigator for Mondstadt's Adventurers' Guild, accompanied by the night raven Oz. Fischl claims to hail from a world beyond Teyvat. She is a daring adventurer with seemingly outlandish theories that happen to turn out to be true. If you are still wondering about its detailed information about this jacket, such as: material, size,… Don't worry, we have a wide range of sizes, even not-easy-to-find sizes, let's check our size chart before buying one. Besides, our jacket's main materials are cotton and polyester, so, wearing it, you can feel both comfort and warmth in the severe cold. We are willing to respond to your question, direct us if you need help.
Genshin Impact Cool Diluc Fleece Hoodie
Do you like this out- stadning fleece hoodie. With inspiration taken from Diluc, a really handsome character in Genshin Impact, it attracts lots of attention from Genshin's fans throughout the world, especially fangirls. Thanks to the wonderful main color, red, it is extremely stand out when wearing. And how about its material? Our jacket was made carefully in every process from choosing materials to producing, printing…, certainly our jacket will suit your taste. Don't hesitate anymore, buy one for you cold winter. Lots of coupons in our store are waiting for you
Fleece Hoodie Paul Leser Genshin Impact
The final fleece hoodie we want to introduce to you today is Paul Leser Genshin Impact Fleece Hoodie. Are you a big fan of Paul Leser? If yes, how about wearing this one? It absolutely satisfies your demand because of its high- quality material combining with durable feature. Wearing this and attracts lots of attention on your way.
We have just recommended you top cutest Genshin Impact Fleece Hoodie in our store. With inspiration from the latest released anime, our jackets certainly look trendy, stylish, and fashionable. So, why don't you buy one for yourself when winter comes.
Thanks for reading our blog. Hope you enjoy and have a good day!!! If you want to get more, visit us.