Most Popular 3D Naruto Bomber Jacket
Jacket is a must-have-item in the severely cold of the winter. Looking for somewhere to buy a fashionable, stylish bomber jacket as well as wearing it can express yourself, why don't you try on our Naruto Bomber Jacket. Our jackets are designed with inspiration from manga and anime Naruto. Naruto manga is a Japanese manga series written and illustrated by Masashi Kishimoto, focusing on the story of Naruto Uzumaki, a young ninja who seeks recognition from his peers and dreams of becoming the Hokage, the leader of his village.
For a long time, Naruto is considered as one of the most world-popular manga as well as anime series. It has gone with the childhood of many teenagers. This series has attracted a lot of attention from readers from all ages because of its interesting and amazing content with excellent characters. If you are a big fan of the Naruto series, don't omit the following 3D bomber jacket..
Anime Ninja Uchiha Sasuke Bomber Jacket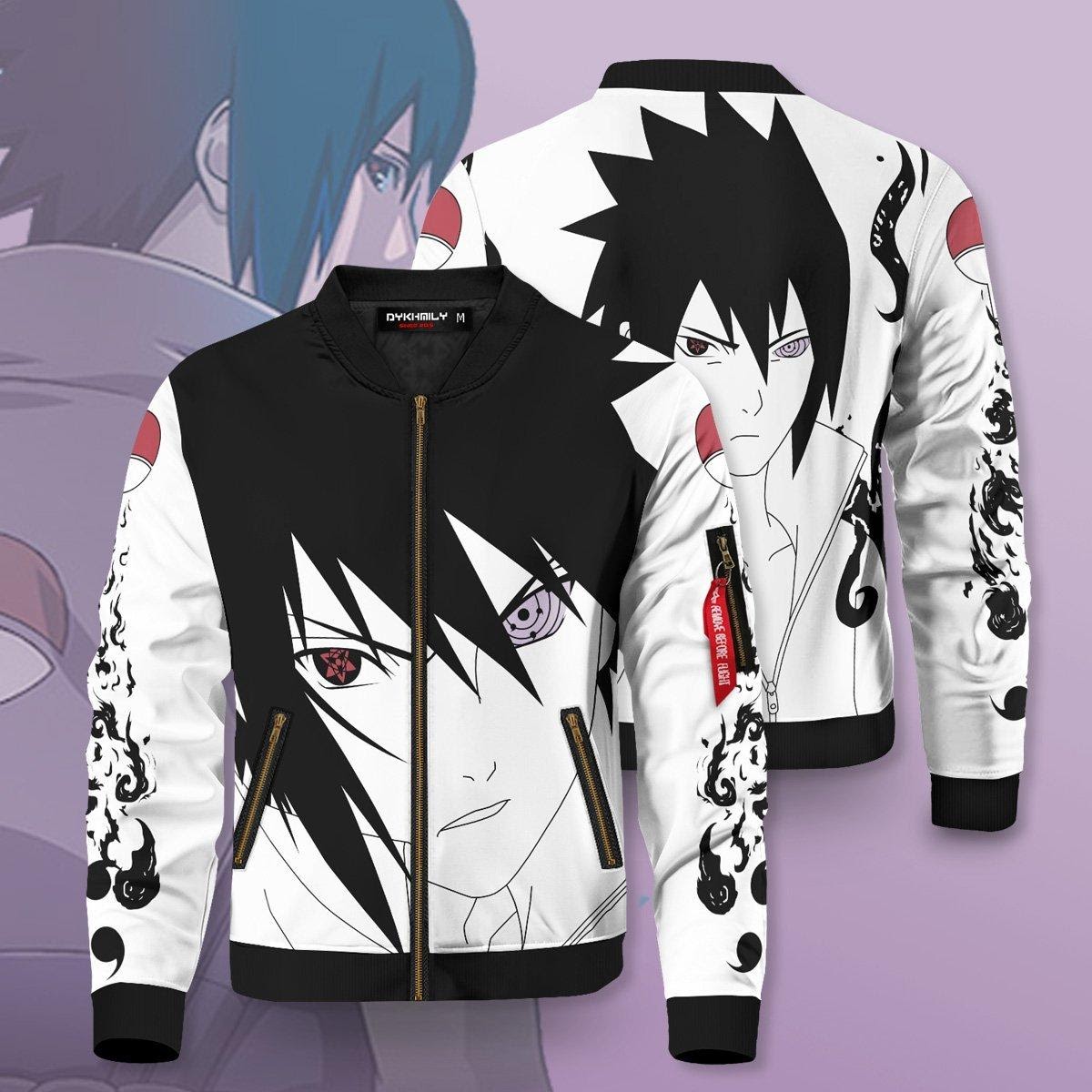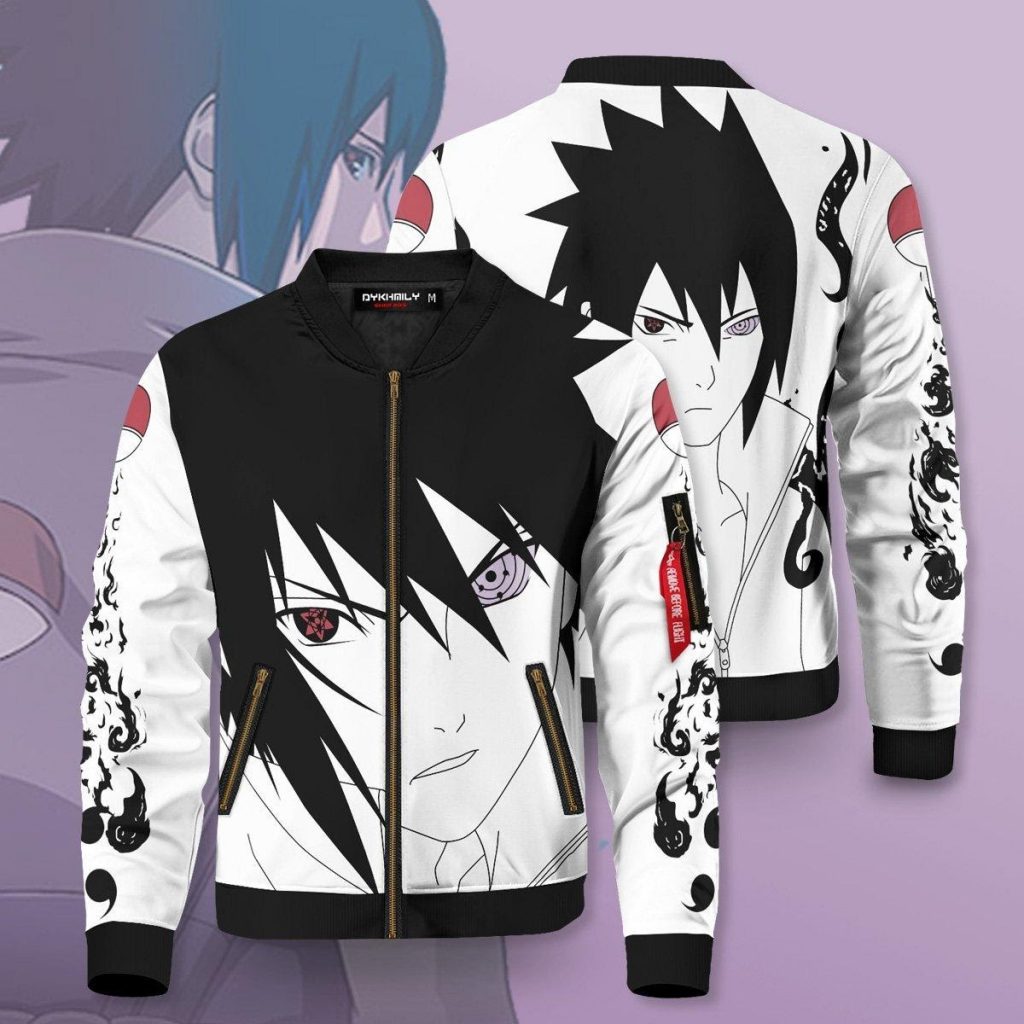 The first bomber jacket in the Naruto Jacket collection, we want to introduce to you a jacket with the main image of Sasuke, Naruto's best friend. Sasuke Uchiha is one of the last surviving members of Konohagakure's Uchiha clan. After his older brother, Itachi, slaughtered their clan, Sasuke made it his mission in life to avenge them by killing Itachi. He is added to Team 7 upon becoming a ninja and, through competition with his rival and best friend, Naruto Uzumaki, Sasuke starts developing his skills. Dissatisfied with his progress, he defects from Konoha so that he can acquire the strength needed to exact his revenge. His years of seeking vengeance and his actions that followed become increasingly demanding, irrational and isolates him from others, leading him to be branded as an international criminal. After learning the truth of his brother's sacrifice, later proving instrumental in ending the Fourth Shinobi World War, and being happily redeemed by Naruto, Sasuke decides to return to Konoha and dedicate his life to help protect the village and its inhabitants, becoming referred to as the "Supporting Kage". If you are a big fan of Sasuke, how about wearing a jacket with an image of him to show others your keenness on him. Not only is our Sasuke Bomber jacket warm in winter but it also certainly attracts everysight in your way.
Gaara of The Sand Bomber Jacket
Next, we want to show you an out-standing jacket in our Naruto Bomber Jacket collection, Gaara of The Sand Bomber Jacket. Gaara is a shinobi of Sunagakure. He was made the jinchūriki of the One-Tailed Shukaku before he was born, causing the villagers of Suna to fear him as a monster. With nobody to connect to, Gaara grew up hating the world and looking out only for himself, giving his life meaning by killing anyone he came across. After being defeated by Naruto Uzumaki — a jinchūriki like himself who found strength in his friendships — Gaara starts imitating him. As you can see in the picture, this jacket is very great because it was made carefully in each step, from choosing material to sew, printing 3D images with high- advanced techniques. Therefore, our jacket will absolutely suit your taste.
Naruto Kurama 3D Bomber Jacket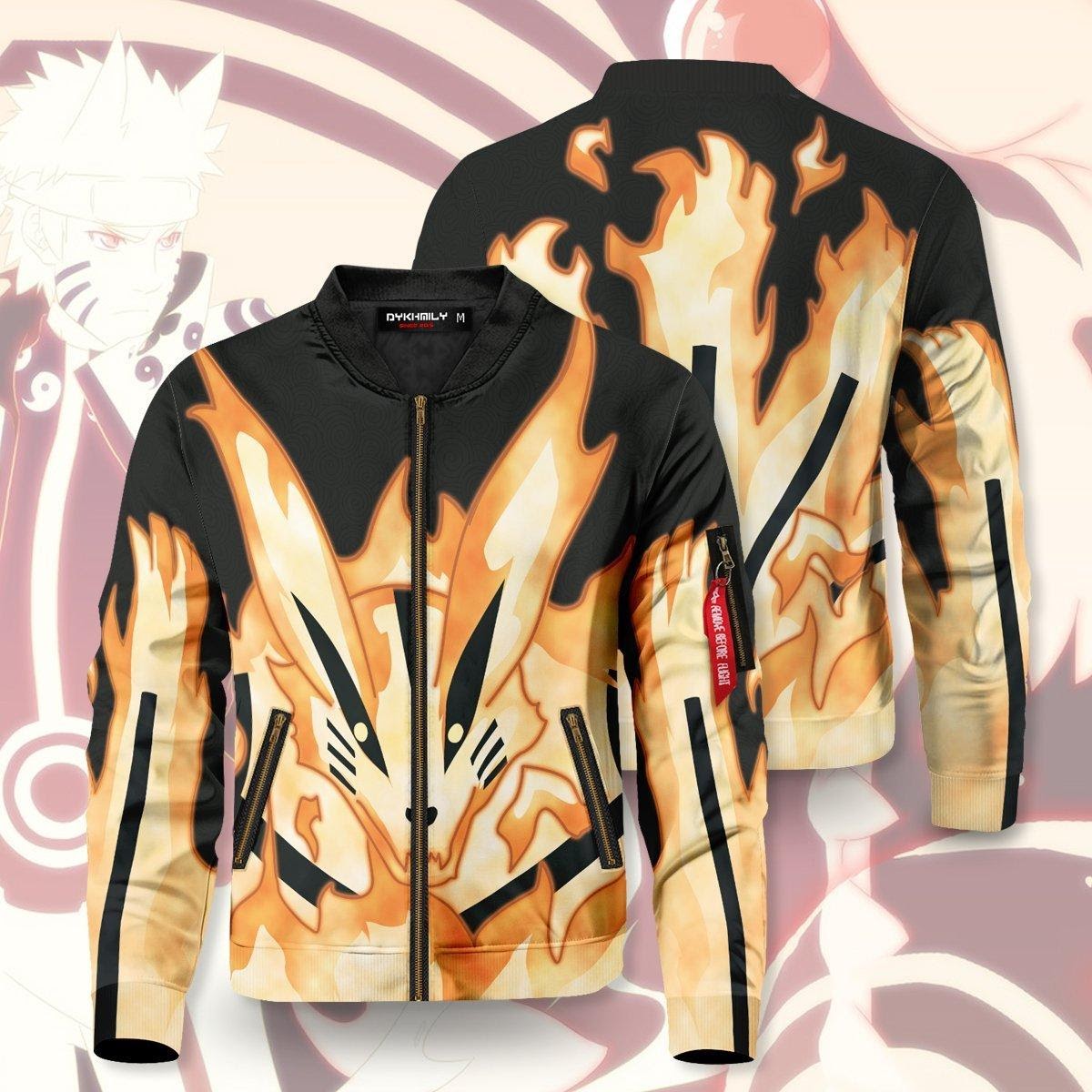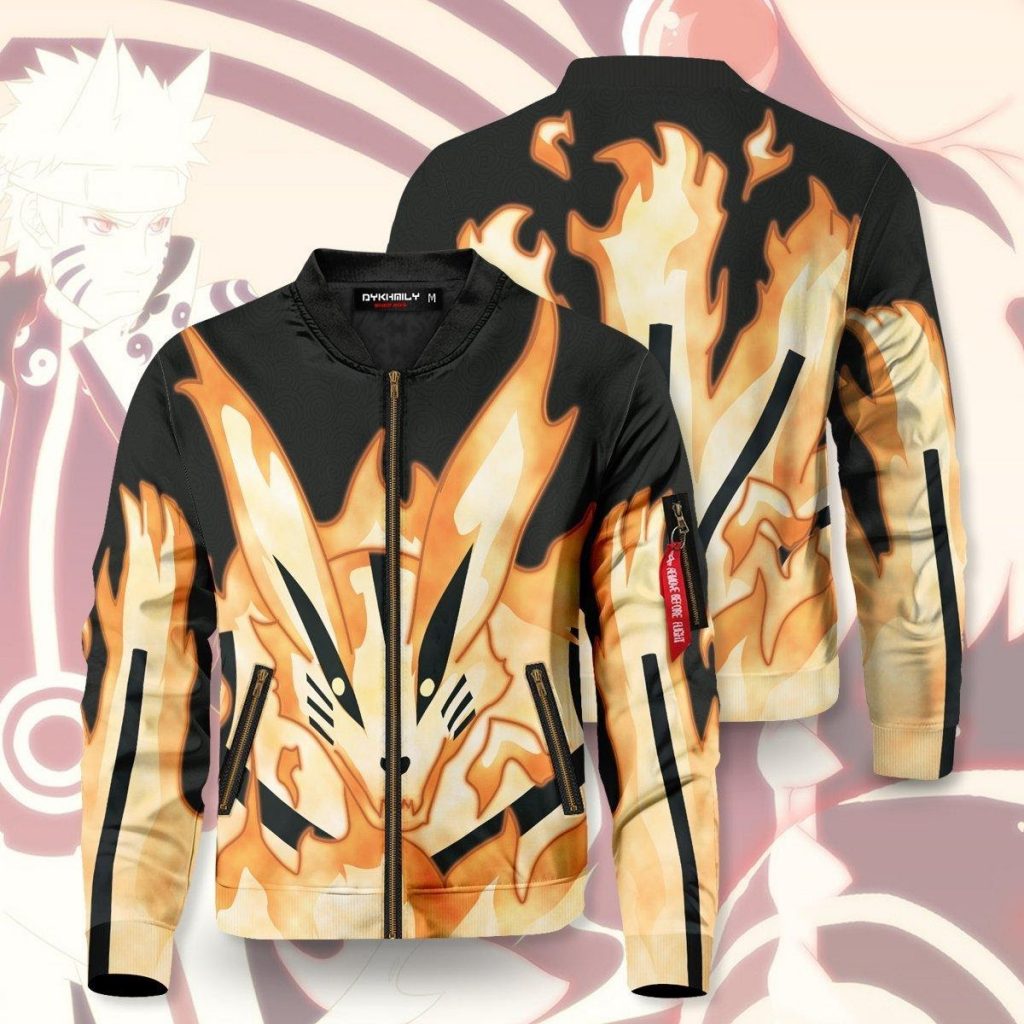 Another out-standing bomber jacket in this collection, Naruto and Kurama Bomber jacket. As you know, Naruto is the main protagonist of the series. He is one of the most favourite anime characters of anime lovers. Thanks to the great combination of its two main material polyester, cotton, it brings you comfort while wearing. Additionally, its feature was printed with high techniques, which make the feature hard to fade, so the jacket always looks new and fashionable. Why do you still hesitate??? Let's add it into your shopping card and order one for yourself. We promise it will suit both your needs and your taste.
Sage Mode Madara Bomber Jacket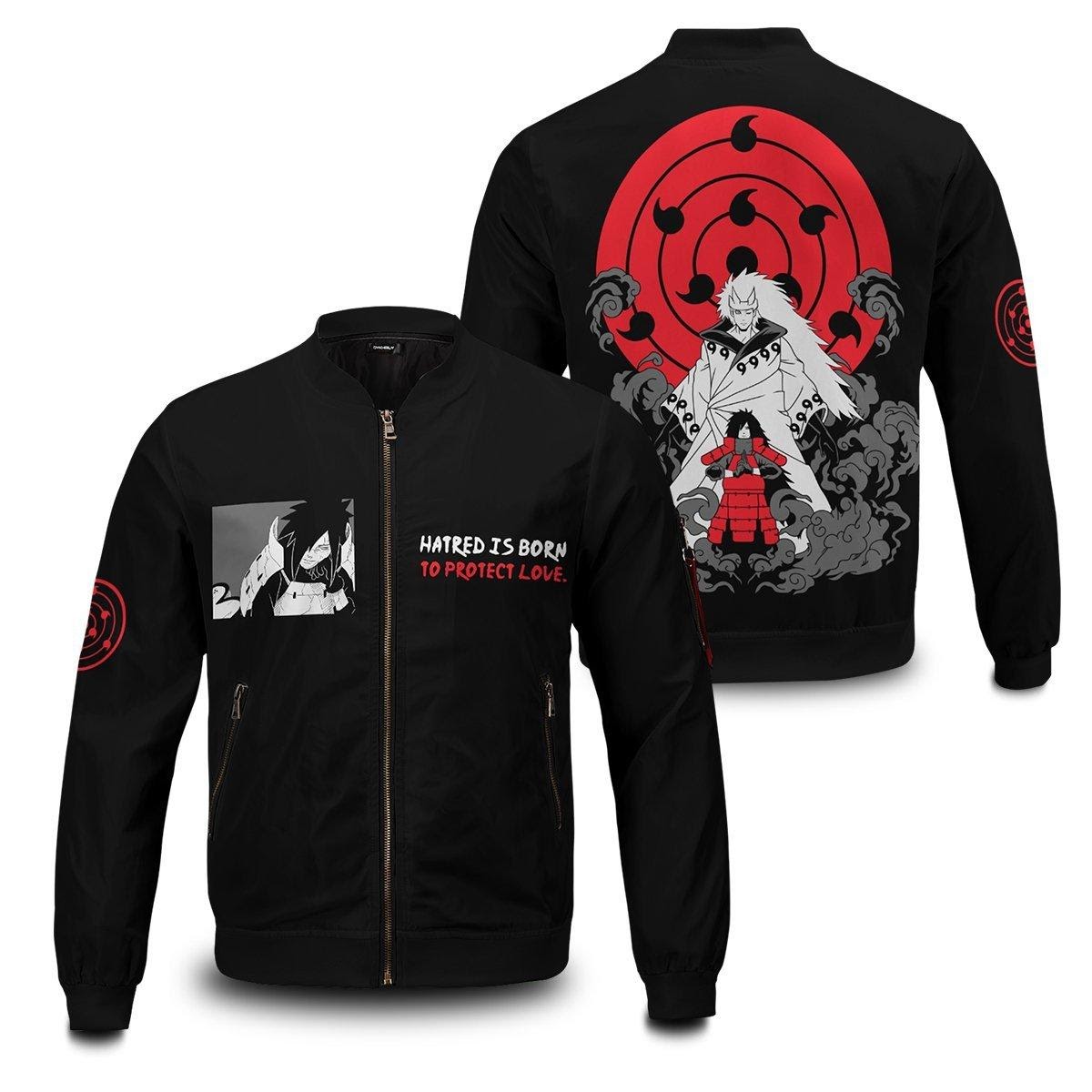 After that, we will offer you another popular jacket in our collection, our Sage Mode Madara Bomber Jacket. With the main color of this jacket, black with the harmony in 3D printed image in the back, this jacket looks very great, right. This Sage Mode Madara Bomber Jacket can be worn with other clothes, being up to your own style, and you will look so trendy since you express your love for your favourite anime on your jacket.
Naruto

 Anime Hatake Kakashi Bomber
Last but not least, we want to bring to you a jacket designed with inspiration from Hatake Kakashi- Naruto's guide in Team 7. He is initially portrayed as a detached and apathetic figure, but as the series progresses, his loyalty to his friends and students becomes increasingly apparent. To Naruto, Kakashi is a really beloved teacher, and to you, do you love him? If Yes, why don't you try on this jacket. Our jacket's high-quality material, with not-easy-to-fade images will certainly meet your demand.
The above products are most popular jackets in our Naruto Jacket Collection. If you are crazy about this manga and anime, don't skip them. Add them to your cart right now! Here is our Naruto Jacket collection.
Thanks for reading our blog! Hope you enjoy your day!
         Additionally, if you need any jackets which were designed with inspiration taken from animes, and manga, don't hesitate to visit our Anime Jacket Store.